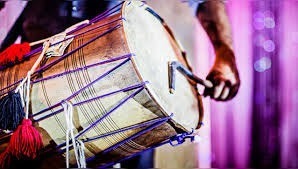 Waking up every morning before dawn has always been my favorite part of Ramazan. This month, as I've awoken for Sahar, amazing childhood memories have surfaced in my heart and mind – like re-discovered treasures from the distant past.
In those days my family lived in a government officers' colony in Lahore, in one of the uniformly designed and neatly-maintained two-story red brick houses. Each block of homes was separated by playgrounds and green open spaces. The colony had once belonged to the Raja of Poonch and was named after him: The Poonch House Colony. Elites and intellectuals lived in that gated enclave: lecturers, professors, public servants divided in housing blocks according to official rank and seniority.
My family used to sleep in the courtyard with rows of charpaye (wooden cots) surrounded by guava and mango trees. To make sure the residents woke up in time to prepare a Sahar meal for Ramazan, a Dhool Wala (man with a drum) would suddenly appear for the holiday season. Strolling through the colony in the darkness, he would pound the Dhool and chant: "Sahri ka waqat ho gya – Udth jana jee!" Wake up – it's time to prepare for Sahar!
A sound heard in the dark is haunting and grips the heart, especially when it emerges in the distance and then comes closer and closer. No children ever saw the mysterious Dhool wala, but his haunting solitary voice accompanied with a solemn beat captivated me.
The pounding Dhool would wake me from deep slumber, and I eagerly popped up from my wooden cot to join the pre-dawn preparations. I watched the lights turn on in windows throughout our neighborhood as mothers began cooking. My mother always started by making parathas as the servants rushed to help set up the dastarkhwan. The fragrance of her cooking mixed with the smoke from the bawarchikhana window that opened onto the courtyard lured me to rush into the kitchen to grab the first sizzling Paratha.
Now in 2022, we need our own Dhool Wala to awaken us from our slumbers. Too many of us are today in darkness, a kind of new jahiliyya. It's time to seize the moment and prepare for a new dawn.
What do I mean beyond the metaphor? We need to insist that our religious community institutions no longer tolerate corruption, that courageous women are no longer silenced when they demand justice, and that abuse of power by men is no longer silently accepted.
Udth jana jee! my fellow Muslims. Let us all hear and harken to the banging drum that calls us to fulfill the true meaning of Ramazan. Eid Mubarak!