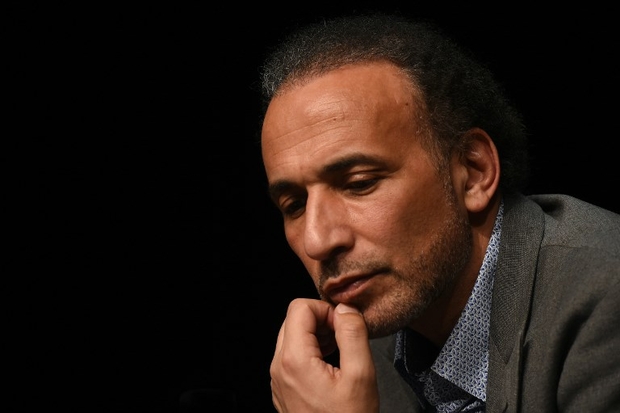 I have found more details regarding the rape claim lodged with French authorities against Islamist giant Tariq Ramadan by an ex-salafi woman named Henda Ayari. Here is what is being reported:
The alleged rape occurred in 2012 at the Paris Holiday Inn on the sidelines of a convention organized by the UOIF (The Union of Islamic Organizations of France). This is a major Islamist convention not unlike our own ICNA and ISNA-MAS conventions in the US.
In her memoir, Ayari referred to Ramadan using the pseudonym Zoubeyr, apparently fearing he would sue her for defamation.
Ayari claims that after she stopped wearing a niqab and began to end her salafi phase, she posted on Facebook a picture of herself in a leather jacket wearing make-up. Ramadan contacted her to warn her that posting the photo was not good. Impressed and annoyed, she responded and they began talking over Skype.
Ramadan proposed that they meet in person, trying several times a month to find a time to meet. He was apparently trying to set her up as his booty call without her understanding his intentions.
While he was in Paris for the UOIF conference, Ramadan apparently sent Ayari his hotel room number and asked her to discretely take a taxi over to the hotel. She recalls being surprised because she thought they were just going to have a coffee in the hotel lobby.
Because she completely trusted him, she went up to his room. While she stood intimidated to meet the great scholar, Ramadan suddenly turned to her and passionately embraced her. She froze, and he began whispering in her ear.
When she pushed back and cried out for him to stop, Ramadan began to insult and humiliate her. He slapped her and roughed her up. She describes a crazy look on his face and feared he might kill her. She couldn't stop crying while he made fun of her.
Out of decency and self-respect, she declines in her memoir to describe the sordid details of the rape. "Suffice to say that he greatly took advantage of my weakness and of my admiration for him." Adding: "My dream turned bit by bit into a nightmare."
After the rape, she returned to Rouen sick with shame and guilt. "I didn't know how to cater to his expectations and I didn't want to lose him. I loved and hated this man." The relationship ended a few months later.
She adds: "The just man of goodwill I had idealized took advantage of my naivete and hurt me physically and morally. I was completely under the spell of this intelligent, seductive, manipulating being."
She notes that meanwhile he continued to "give lessons of Islamic morality and present himself as an enlightened philosopher, a serene defender of a modern Islam"
She claims that Ramadan maintains an impressive number of mistresses, some of whom resent his beastly and degrading behavior. "Not so brilliant for an Islamic deontologist" she observes.
So far Ramadan has not posted any comment on social media or responded to media requests, including calls to his personal cell phone.