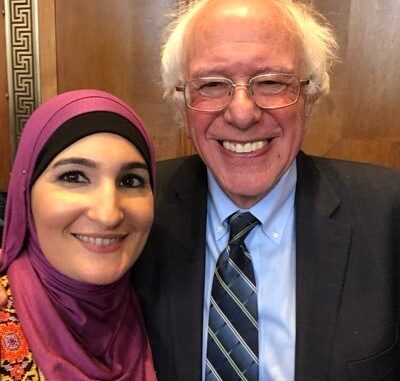 Bernie Sander's campaign surrogate Linda Sarsour is closely linked to the man named in a federal lawsuit for abusing female employees and religious discrimination in the workplace. The man, CAIR San Diego Executive Director Mustafa Dustin Craun, has been named in a major Title 9 federal suit for alleged abusive action against female subordinates. Craun and Sarsour are co-founders of MPower Change, a community mobilization nonprofit funded by the Ford Foundation. The allegations against Craun are shocking – yet Sarsour has remained silent on them.
The details were first brought to light by a former CAIR national board member Asma Lori Soraya (aka Lori Haidri). A long-time CAIR employee, Haidri has blown the whistle on allegations of widespread gender abuse and discrimination. On her Facebook page, she broke the news about the lawsuit against Sarsour's colleague Craun. For the past few months, the story has remained within the confines of the Muslim community.

Linda Sarsour, a former National Women's March leader and a self-styled feminist, has been a staunch Bernie Sanders surrogate. Her silence on the issue leaves questions hanging over the Sanders presidential campaign and the Senator's commitment to women's rights, all the more so one week after Harvey Weinstein's conviction.

The lawsuit against Sarsour's partner Craun alleges that he:
Maintained a CAIR employee handbook that officially stated women's testimony was only half as valid as men's
Policed the wardrobe of CAIR's female employees, including chiding a pregnant staffer for wearing clothes that were "too tight", while himself violating the dress code and not reprimanding male staffers.
Paid CAIR male employees over 50% more than comparable female employees and promoted under-qualified men over women.
Verbally harassed and intimidated a female staffer who was attempting to file a discrimination complaint about his reneging on a salary increase.
The lawsuit further alleges that under Craun's leadership non-Muslim employees were openly discriminated against and not trusted – even told they could wait in a closet while other employees prayed. The religious discrimination apparently also extended to fellow Muslims, with preferential treatment given to salafis and staffers judged as more religious.

The close ties between Craun and Sarsour go back several years. They co-founded MPower Change in 2016 along with MoveOn.org campaigner Mark Crain. The organization aims to mobilize Muslims for progressive social causes. The Mpower Change Facebook page describes Sarsour as its Executive Director.


Mustafa Craun (aka Dustin Shane Craun/Dustin Shane Gentzler) is the executive director of the San Diego branch of the Council of American-Islamic Relations, an organization that Sarsour staunchly supports and at whose banquets Sarsour often appears as a keynote speaker. Craun is also a fervent Sanders supporter and has recently attacked Joe Biden's Muslim outreach director on Facebook over allegations of bigotry.
I of course have known about Sarsour for years, but never heard of MPower Change or Craun before. This is a crazy story and a slow-fuse bomb that could potentially go off in the face of a lot of good people. Should the press ever ask Sarsour about it, it'll be a time of reckoning.