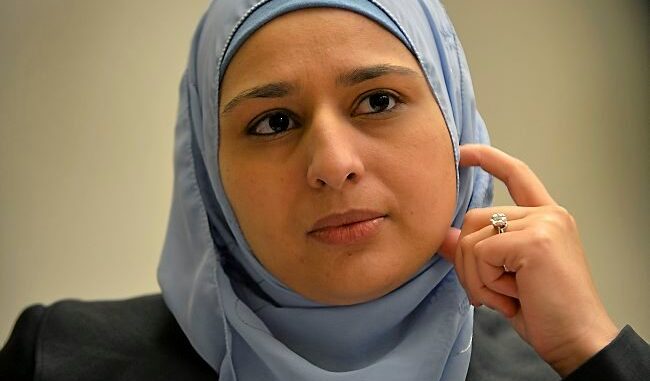 Halima has been posting about Lori Haidri's personal battle to expose the abuses she witnessed while an employee at CAIR. At first I did not take this seriously, because there is no trace of Lori Haidri. But I have figured out who Lori is – and her story is all too real. This is indeed the biggest Muslim whistleblower case to hit CAIR since its creation.
Mystery: Who is Lori Haidri?
Hailma first posted about this mysterious ex-CAIR whistleblower. But Google "Lori Haidri" and "CAIR" and nothing of substance shows up. I thought maybe she was made up (what a few readers sometimes think about our anonymous blog). But then a prominent figure like Rabia Chaudhry commented on Lori's profile.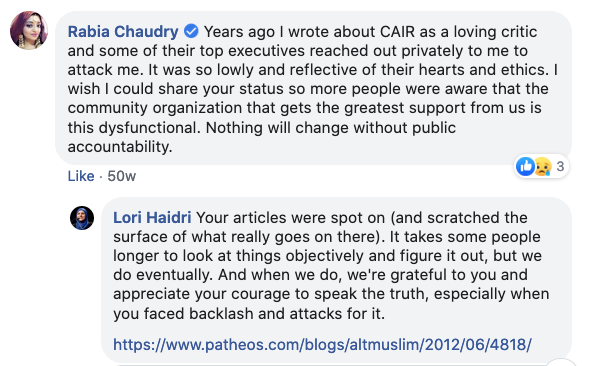 Breakthrough: Look for Lori's Married Name
A reader tip made me realize that Haidri might be only one of Lori's names. On the CAIR Minnesota twitter feed I finally found the name "Lori" – and the photo matched Lori Haidri's Facebook profile. Bingo! Lori's full name is Asma Lori Saroya, and she also goes by Asma Saroya.
Lori Saroya (a.k.a Lori Haidri) is indeed who she says she is. She is the former CAIR National Chapter Development Director and a former CAIR National board member. The CAIR website is filled with references to her over the past decade. She personally handed President Obama a letter about profiling discrimination during a 2016 Eid celebration hosted at the White House.
The Journey of Lori Saroya, a.k.a Lori Haidri
Once you know to look for Lori Saroya, there are tons of articles on her. A few years ago she gave lots of media interviews and shared lots of details about her personal life in them. As you read through the old articles her story starts to emerge. It is fascinating.
Lori was born to Indian-Muslim parents and raised in a town in Iowa, where her family was the only Muslim one around. That cannot have been easy, especially since Lori wears hijab, instantly marking her to classmates and neighbors. She started college at the University of Iowa – where she led a successful challenge to the local mosque and MSA that then excluded women from leadership positions. In a Facebook post which she later deleted (screenshot below), Lori Haidri pointed out the irony that the men who opposed her now have daughters leading the MSA.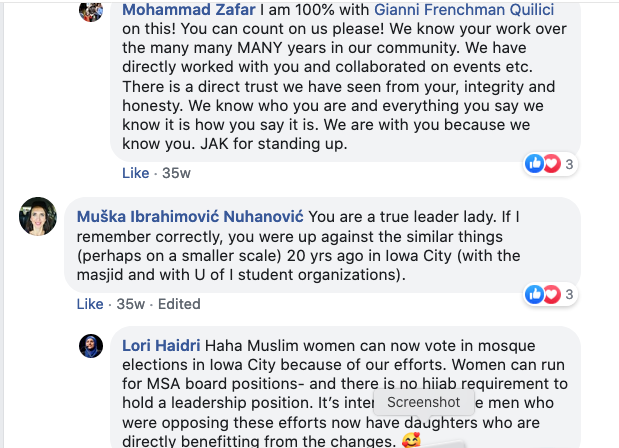 After a year, she seems to have transferred to St. Catherine's University in Minnesota. Then 9-11 happened. In an interview I read, Lori explained that after 9-11 she tried to find a civil rights group to intern with to help address the Islamophobic backlash. But she was disappointed at the lack of opportunities – which seems to have inspired her to go to law school and create her own organization.
Lori enrolled in law school at Hamelin University in St Paul, and she worked as a project coordinator at the now defunct Council on Crime And Justice. She was also volunteering as a counselor in a Muslim youth camp started by her future husband, Kashif Saroya. Kashif had immigrated from Pakistan and by that time was already a systems analyst. Once married, they bought a house in Minneapolis according this profile on them on CNN Money from 2009.
The CNN Money article reveals that Lori and Kashif used $15,000 of their own money to start a CAIR chapter in Minnesota! No wonder Lori is so upset about what happened to her. As soon as she started CAIR, she quickly grew the chapter into a force. And she became a rising star in Minnesota, at least judging by the extensive coverage she got in local media. She was the perfect messenger for CAIR: American-born, no foreign accent, an empowered and capable female leader. Her actions throughout all these years show that she was a true believer in the group's stated civil rights mission. This only makes it the more surprising to see how things ended up between CAIR and Lori.
What Went Wrong for Lori at CAIR
Following Lori's career growth, after she and her husband both won fellowship awards from the Bush Foundation, she earned a degree in non-profit management, a fact she alludes to in her Facebook posts. She seems to have wanted to apply her skills to help CAIR start and strengthen other chapters, just as she had successfully done in Minnesota. By then she was chosen to become CAIR's national board member. She was also hired as a national staffer working out of Washington DC to help grow chapters around the country.
Lori likely had been shielded from the extent of mismanagement and corruption by CAIR's national board when she was first involved with the group. But once she joined the board and stared working in the national office, she discovered that CAIR is run like a Middle Eastern dictatorship. As Lori herself puts it:
"I wish I could say that the most incompetent thing they did was forget to ask me to sign a confidentiality agreement as a new board member, but it's worse. Much worse. In my opinion, the CAIR National board does not provide proper oversight and governance to the organization. I question board dynamics and authority when the founder and executive director is a voting member of the board- and has been for the past 25 years. This leads to a culture where people don't feel ownership/authority and simply look the other way."
The discovered that an old boys club of men are the real people who run CAIR – and that they had empowered Lori only as long as she was useful to them.
"I was with CAIR for nearly 12 years in various roles: chapter founder, chapter executive director, national board member, and national chapter director. I witnessed gender and religious #discrimination, sexual harassment, retaliation, hostile work environment, union busting, financial mismanagement, lack of board oversight, board incompetence, and other serious issues at #CAIR."
But Lori discovered silence in response: "Chapters are very capable of standing up for justice, but they look the other way and do nothing when their national leaders are the perpetrators of injustice."
An organization that bills itself "the nation's leading Muslim civil rights advocacy group" is itself a major abuser of civil rights – and many of its members choose to remain silent in the face of injustice. For the benefit of our community, CAIR's leadership needs be held accountable. And we have to respect Lori for sounding the warning bell.