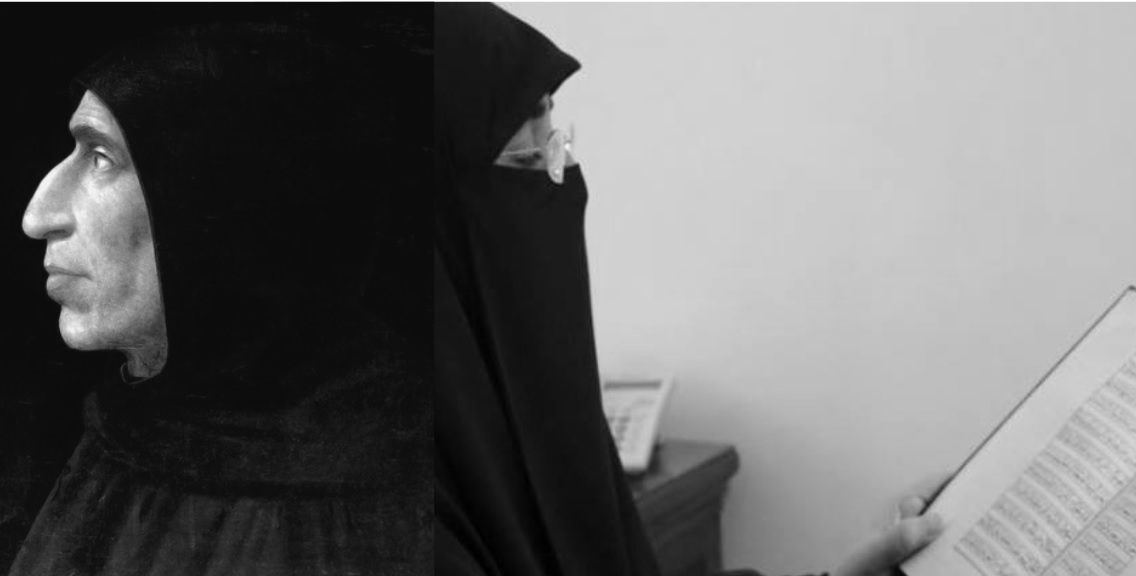 Let me share a little more about what Al-Huda does to its students.
Our instructors at Al-Huda used to tell us that to reach salvation and be born again, we had to cleanse ourselves from all impurities and discard every residue of our former sinful selves. I wanted to be a good student. So I started destroying my wardrobe. I threw away my sleeveless dresses, since it was too tempting and un-Islamic.
My friend who attended the same school chose a more radical measure. She started a fire in her backyard. She went through her family album and threw into the fire any picture that showed her face and hair. Another friend cut herself out of pictures with a pair of scissors. Another blotted her face out with a pen. We all stopped listening to music or watching TV shows.
I still remember the exhilaration that comes with such dramatic actions. We thought we were getting closer to God. But there's so much you can destroy in yourself before you realize there's little left of you. Our wardrobes began to look very similar to each other's, mostly black abayas. Our photo albums faceless. Our rooms empty of pictures. I for one began to feel empty.
Saddest fact about al-Huda is how it continues to entrap women, encouraging them to destroy themselves in the very name of female empowerment. Consider this testimony from an artist that Al-Huda has unashamedly put on its website:
My Journey to the right path


Fortunate are the people whom allah guides and puts them on the straight path and brings them in touch with such enlightened people who can change their lives and pull them from the depths of ignorance to the heights of knowledge.

I am one of them today is the day no matter how much I thank allah, it is not enough that he guided me and brought me to the right people and changed my life completely.

I was a visual artist I made huge paintings and sculptures and was very successful as an art educationist. Art gave me high position when I moved to Abu Dhabi, but there was always a desire inside me to understand quran which I rarely read then.

One day my sister gave me Dr farhats cassettes. I also saw Yahya Haroons miracles of quran programes on tv .I became desperate to understand Quran.. My first teacher was Mrs Samina Asad who took classes at her home in Abu Dhabi,she was my first teacher.She had such a soft style of preaching and such intelligent way of convincing that I decided to study Quran,but I did not have time I was working full time as the director at the art education section of cultural foundation.I got cassettes from Samina of Taleem al quran by Dr Farhat Hasmi. Mashallah she has such an excellent command on Arabic language and capability to connect to the students mind immediately her vast knowledge brought me so close to allh sbwt.

I listened to her whole course. I was born again, I broke all my sculpture and ceramics ,destroyed life size paintings quit the job and enrolled in the online class. I was so impressed by the Alhuda team and their hard work .They do not leave any stone unturned to train us .I am a different person now, a more happier content thankful softer, humble and fearing person

I thank my allah who did not leave me in darkness and brought me to light. I am obliged to Madam, her daughter Tamiya zubair and all those who helped in my training. There is still so much to do I have wasted so many best years of my age serving a wrong purpose ,may allah give me time that I compensate for all that. Still I have so many flaws may allh give me the strength to check my self and may all make my children imam of mutaqeen ,.may allah remove from my actions anything he dislikes and add everything he likes. ameen

shahina
I wish I could tell Shahina that God does not want her to destroy herself. I wish I could tell her that God made her in his image. That this means, above everything else, to create and not to destroy.
I wonder what Lori Haidri thinks of Shahina's story.