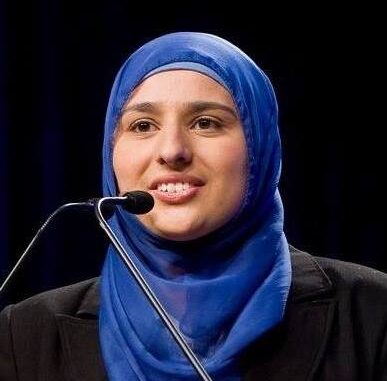 I stumbled by chance on what looks like a major scandal affecting the Council on American Islamic Relations (CAIR), where the organization is trying to silence and intimidate a former high-ranking employee. But the young woman refuses to be silent, and she is fighting back. I am amazed.
It all began with a short message from a friend who shares my views on CAIR: "You should read this." The message came with a screenshot: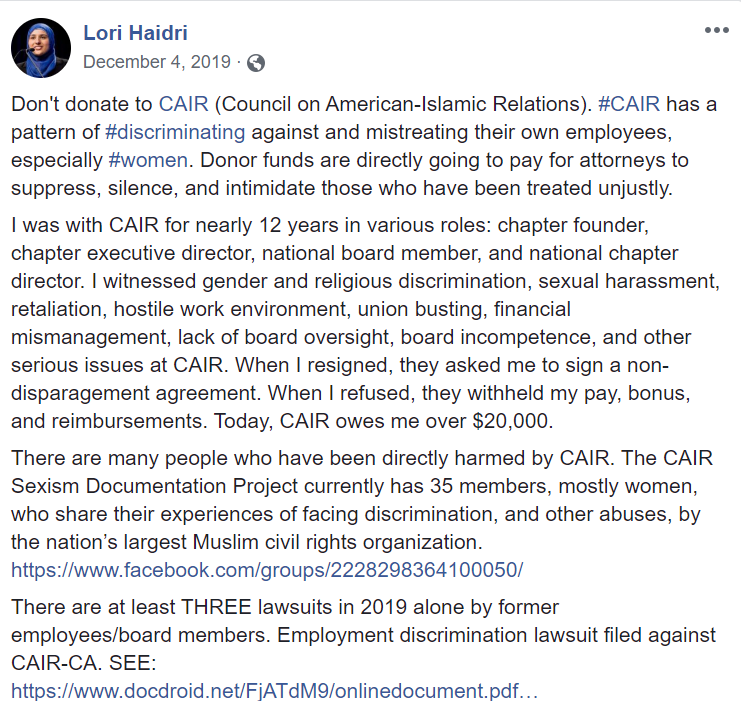 I am still struggling to make sense of the story, but it looks like a major scandal. In a nutshell: A former CAIR official (who posts on Facebook under the name Lori Haidri) seems to be locked into a battle with her former employer. Refusing to sign a non-disparagement agreement, Lori has launched a one-woman media campaign against her former employer -. Among her allegations are:
CAIR exhibits a pattern of religious discrimination (she revealed a discrimination lawsuit filed in California by a former CAIR non-Muslim lawyer)
Systemic sexism and abuse of women in CAIR (She revealed the existence of a private Facebook group in which the members, who are mostly women, share their experiences of facing discrimination, and other abuses, by CAIR.)
CAIR has a pattern of serious financial mismanagement and cover-ups (absence of board oversight; temporarily losing their 501c3 status, and concerns around dubious international funding through their Washington Trust Foundation)
CAIR uses donor funds to pay for lawyers who silence whistleblowers and critics – and to stop employees from seeking a more equitable labor terms under a union.
Lori writes at the end: "Ultimately, nothing good can come out of corruption and injustice. The community deserves a legitimate civil rights and Muslim organization that treats all people with the respect and dignity they deserve." She describes her experience as "working for the Muslim Beavis and Butthead."
I don't know what to make of all of this. The author's name, Lori Haidri, does not sound familiar and nothing of substance comes up on Google. But her story is filled with details that seem real. Maybe she (like me) is writing under a pen name. Is this story for real. If you have any tips, please comment below.